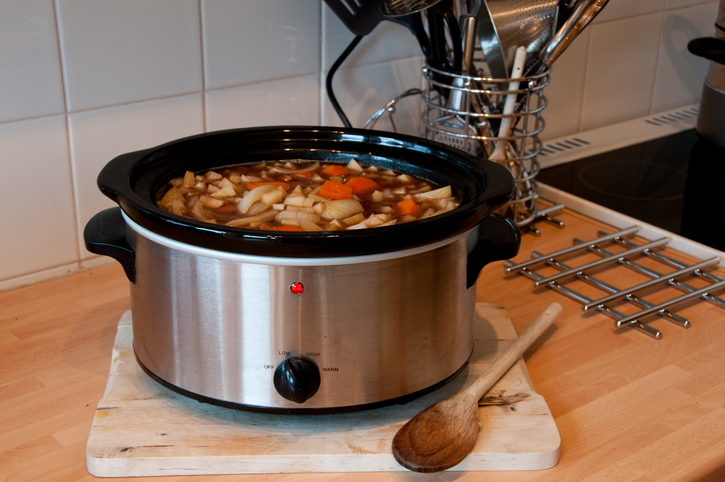 For those of us who live a busy life and still need to nourish ourselves and our families, slow cookers can be a huge help. Simply load up your cooker before work, set the timer, and go. However, according to the National Fire Protection Association, the popular kitchen appliance causes an average of 150 home structure fires per year. Erie Insurance offers these slow cooker tips for a safe slow-cooked meal.
Not everything is better with age.
If you're just starting out and you've been "gifted" your mom's (or grandma's) old slow cooker, there's something to consider: age. While it might be in great working order, a vintage slow cooker from the '70s or '80s with an insert firmly attached to the heating element might need to be upgraded. Some older models also had vent holes or a notch in the lid for a spoon. Slow cooker lids should fit snugly. If it's warped or has one of the above-mentioned features, steam and heat will escape.
Make the connection
. It's important to regularly check the slow cooker's electrical cord. If there's any sign of wear or tear, it's time to buy a new one. Using a slow cooker with a broken plug or wire is a fire hazard.
Location, location, location.
It's important to keep the slow cooker away from the edge of countertops, and this includes not having the cord dangle off the edge. The closer it is to the edge, the easier it is for a person (or pet) to bump it or knock it over.
Tips to simmer over
. If you're curious to see if your slow cooker is in working order, you can do a simple water test. Older slow cookers may not work as well as they once did, and for temperature and food safety purposes, the water test (see below) will help you decide if you should keep it or toss it.
Fill the slow cooker 2/3 full with tap water (tepid water) and set it on the low setting. After eight hours, use a thermometer to check the water's temperature, which should be at least 185 degrees Fahrenheit, according to the U.S. Department of Agriculture's Food Safety and Inspection Service.
Every slow cooker is different, with varying specifications by make and model. Follow the manufacturer's directions and take heed of anything suspicious or concerning.
Keep these tips in mind the next time you pull out your slow cooker or any other small kitchen appliances.
Source: Erie Insurance
Published with permission from RISMedia.